On Sale
2011-2018 Jeep Wrangler JK (4 Door) - Hard Top Headliner Kit
Product Description
Hothead Headliners has been proudly making Premium Jeep Wrangler hardtop headliners in the USA since 2009. Every single Jeep headliner produced is custom-made, which produces a much higher quality than you would get from a factory with assembly lines. We take a lot of pride in our products and have been improving them over the years to deliver you an even better Jeep experience!
Product Info
Stops heat that radiates down from your hard-top which allows your air conditioner to easily keep up with any outside temperature in hot climates

Insulates against the cold

Reduces road & wind noise by 3 to 6 decibels (dB)

Improves the sound of your stereo by increasing the acoustic properties of your hard top

Easy Installation! I

nstalls in about 40 minutes 

without removing your hard top

Made in the USA!

100% Satisfaction Guaranteed!
Product Details
Hothead Headliner Kit
Includes: 2 front panels, 1 middle panel, and 1 rear panel

All panels are attached with 

high-grade 

3M VHB tape

All Headliners include a

 

Radiant Barrier

 

layer for additional insulation properties
FREE

 

Shipping within the Continental USA!
Rear Side Window Kit
Complete the look of your Jeep JK Wrangler by adding the Rear Side Window Kit to your order. These rear side window panels will cover up the additional white spaces on the back sides of your hard top, providing a perfect finished look with your new Headliner kit.
Includes: Left & right rear side window panels attached with Velcro

FREE

 Shipping included with all Hothead Headliner orders!
Sound Assassin Hard Top Package
If you want to do all you can to maximize the reduction of road & wind noise in your Jeep JK Wrangler, we suggest adding Sound Assassin, our sound deadening & insulation material to your order. 
Includes: (17) - 20" x 2" individual Sound Assassin Strips

Complimentary Tool (light-weight, seam roller)

FREE

 

Shipping included with all Hothead Headliner orders!
Customer Reviews
03/25/2020
Paul F.
United States
WOW!!!! What a difference!!!!
I research, research, research. The Hotheads products are everything advertised. Our temps are currently in the low 90s here in Florida. I bought the roof headliners, the side window liners and the Sound Assassin. They went up in about an hour and a half. What a difference it made on the temp as well as cool down time. The road noise is sooo much quieter. They make the interior look finished and clean. My stereo sounds so much better and I use way less volume to hear my music. My jeep is my office most of the day as I am driving from job to job. I used to struggle hearing my phone conversations. Now, NO PROBLEM!!!! I really cannot express what a difference they made and how happy I am with these headliners. I highly recommend this product 100%.
03/31/2020
Hothead Headliners
Hey Paul, thanks so much for the great review! We're glad we were able to help regulate the temperature in your Jeep JK down there in Florida!
08/12/2020
Christopher B.
United States
Great Product
The headliners quiet the ride and more importantly for me in Arizona, keep it cooler. The AC couldn't cool down my Jeep in an accepted manner, especially in the back seat where my 2 year old daughter sits. With these headliners the Jeep cools considerably faster as the AC is able to keep up in the 100+ degree heat. It also adds a nice aesthetic touch to the interior. Worth the purchase in my opinion.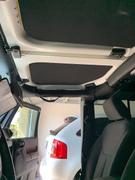 08/12/2020
Jeff Z.
United States
Total Package
terrific product, great pictures, great instructions - works great! Thank you.
08/10/2020
Joshua C.
United States
Excellent product and easy to install
Great finish and definitely a quality product. I was afraid it would just be headliner around some cheap cardboard. These are well built and thought out. I had to trim and drill through some of the material for a bolt-through roof rack and i was able to do it easily too.
08/09/2020
Gary F.
United States
GREAT IMPTOVEMENT
it works as expected. definitely keeps the cab of my jeep from getting so hot. the roof of my jeep gets very very hot in the Arizona sun. this only covers the recessed parts of the top and they are barely warm. the uncovered plastic is still getting hot.keep in mind the recessed part is one layer or two compressed layers and the parts still uncovered are double ........ THIS IS A GREAT AND WELCOME IMPROVEMENT