Why You Should Purchase a Sun Shade for Your Jeep Wrangler or Gladiator
Why You Should Purchase a Sun Shade for Your Jeep Wrangler or Gladiator
Driving your Jeep Wrangler or Gladiator is an amazing experience, but the sun's heat and glare can make it a little less enjoyable. Whether you are driving on the highway or on a trail, the sun can take a toll on you and your Jeep. The good news is that you can protect yourself and your vehicle with a sun shade.
Protection from Harmful UV Rays
Driving under the sun can cause sunburns, skin aging, and even skin cancer. A sun shade is designed to block up to 90% of the sun's harmful UV rays. This can protect your skin and eyes from the sun's damaging effects. It can also prevent the sun from fading your interior and cracking your dashboard.
Reduces Heat Inside Your Jeep
Jeeps are known for their open-air design, but this design can cause the interior to heat up quickly, especially during summer months. The sun shade will reflect the sun's heat and reduce the amount of heat inside your Jeep. This will make it more comfortable for you and your passengers.
Increases Fuel Efficiency
When your Jeep's interior is hot, your air conditioner has to work harder to cool it down. This can result in decreased fuel efficiency. A sun shade can help to reduce the amount of heat inside your Jeep, which can help to improve fuel efficiency and save you money at the pump.
Protection for Your Loved Ones
Having a sun shade for your Jeep is not only important for protecting you from harmful UV rays, but it's also crucial for protecting your family and children during commutes, road trips, and adventures. Young children are especially vulnerable to the harmful effects of UV rays, which can cause damage to their skin and eyes. Sun shades provide an additional layer of protection, reducing their exposure to the sun and keeping them safe and comfortable during your journeys. By ensuring your loved ones are cool and protected, you can fully enjoy the experience and create unforgettable memories with those who matter the most to you.
Protection for Your Pets
If you like to take your furry friend on a ride with you, it's essential to protect them from the sun's harmful UV rays. Dogs and cats can suffer from heatstroke, sunburns, and dehydration if exposed to the sun for too long. A sun shade will provide them with the protection they need to stay cool and comfortable during your ride.
Easy to Install and Remove
Another great thing about Jeep sun shades is that they are incredibly easy to install and remove. Most models come with bungee cords or straps that you can easily attach to your Jeep's roll bars, and they can be installed in a matter of minutes without the need for any special tools. This means that you can quickly and easily put up a sun shade when you need it, and take it down just as easily when you don't.
Additionally, because they are so easy to install, you can switch between different sun shade options depending on your needs. For example, if you prefer a mesh shade for a bit of extra airflow, but find that it's not providing enough shade for particularly hot days, you can easily switch to a solid shade to block out more of the sun's rays. This flexibility makes sun shades a great addition to your Jeep, as you can customize your shade options depending on the weather and your specific needs.
Protects Your Interior
As we mentioned earlier, Jeep sun shades help to protect your seats and dashboard from the damaging effects of the sun. UV rays can cause fading, cracking, and other damage to your interior over time, especially if you frequently leave your Jeep parked in the sun. By using a sun shade, you can significantly reduce the amount of UV exposure your interior is exposed to, helping to keep it in great condition for years to come.
In addition to the UV protection, sun shades can also help to keep your interior cool, reducing the amount of heat that builds up inside your Jeep on hot days. This can help to keep your seats from becoming uncomfortably hot, and can also help to reduce the wear and tear on your dashboard and other interior components that can be caused by extreme temperatures.
Enhances Your Jeep's Style
Finally, adding a sun shade to your Jeep can help to enhance its style and give it a unique look. With so many different options available, you can choose a shade that matches your Jeep's color scheme, or opt for a bold contrasting color to make a statement. Additionally, the mesh and solid sun shades can provide your Jeep with a rugged, off-road look that complements its natural style.
By adding a sun shade to your Jeep, you can not only enhance its style, but also show off your personal taste and sense of adventure. Whether you prefer a simple, understated look or a bold, eye-catching design, there is a sun shade out there that will meet your needs and help your Jeep stand out on the road.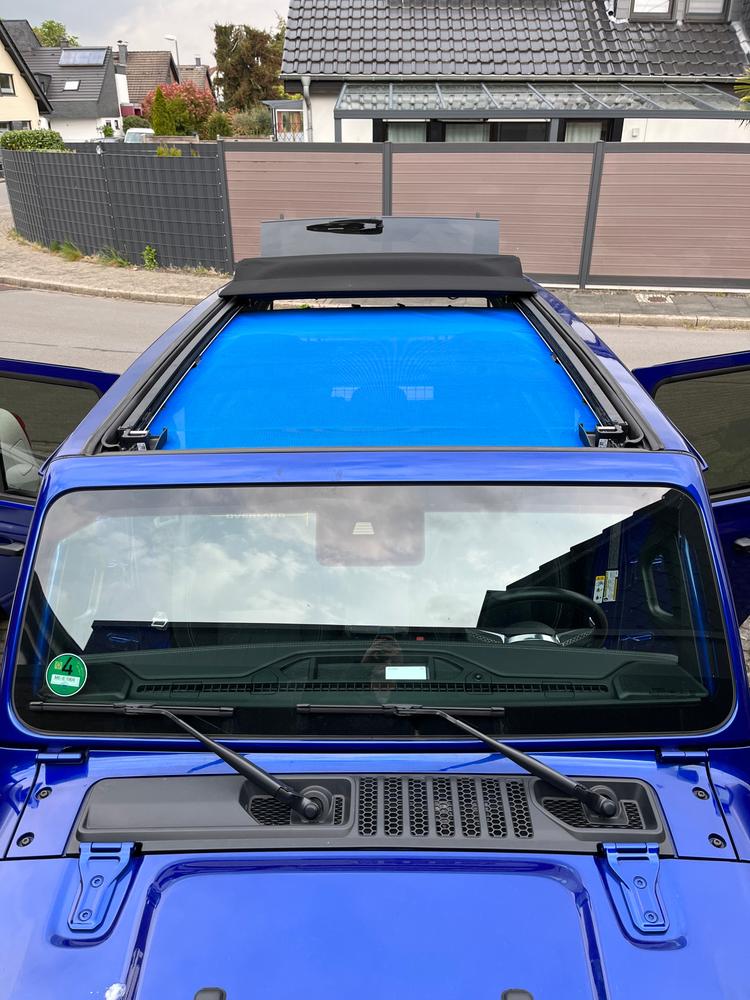 Conclusion
In summary, Jeep sun shades are an excellent investment for any Jeep Wrangler or Gladiator owner. They can provide valuable shade and UV protection, reduce heat buildup, enhance your Jeep's style, and are easy to install and remove. With so many different color options available, Hothead Headliners has got you covered. They offer sun shades for both the Jeep Wrangler and Jeep Gladiator, ensuring that no matter which model you own, you can protect yourself and your passengers from the harsh sun. For the Wrangler, Hothead Headliners has sun shades available for hard tops, soft tops, and the Sky One-Touch Power Top, while for the Gladiator, they have options for both hard tops and soft tops. With these sun shades, you can enjoy your rides in your Jeep with greater comfort and safety.
So why wait? Invest in a sun shade today and start enjoying all the benefits that it has to offer!